In this article, I will present the best Sony mirrorless cameras. I am sure you have heard about Sony products and their outstanding performance. You can bet that they will deliver the same exceptional performance and quality when it comes to cameras.
Sony focuses on developing full-frame mirrorless cameras, unlike their rivals Canon and Nikon, who manufacture DSLR and mirrorless cameras.
With a focus on mirrorless, you can be confident they have ensured they deliver high-quality products to the market. For this reason, Sony has managed to offset Nikon from the number two position in the camera manufacturing world.
Who would have thought Sony would beat Nikon or even compete against Canon, the two most prominent and well-known camera brands worldwide?
As you read this article, know that Sony is the number one full-frame mirrorless camera manufacturer and has been for some time now.
Even with the stiff competition, Sony faces from its rivals Canon and Nikon, it has still managed to stay a couple of steps ahead of them to retain the number one position.
Canon has the EOS R system and Nikon Z-series as their range of mirrorless cameras.
The range of mirrorless cameras made by Sony is loved by professionals, vloggers, and enthusiasts alike.
There are APS-C Sony mirrorless cameras that Sony still makes since these are the cameras it started with. The cameras are cheaper and smaller alternatives to the full-frame mirrorless models.
They offer a good way for beginners and enthusiasts to experience and use mirrorless systems without breaking the bank.
To find out the best Sony mirrorless camera, keep reading.
At a Glance
Overall Best
Sony A7 IV Mirrorless Camera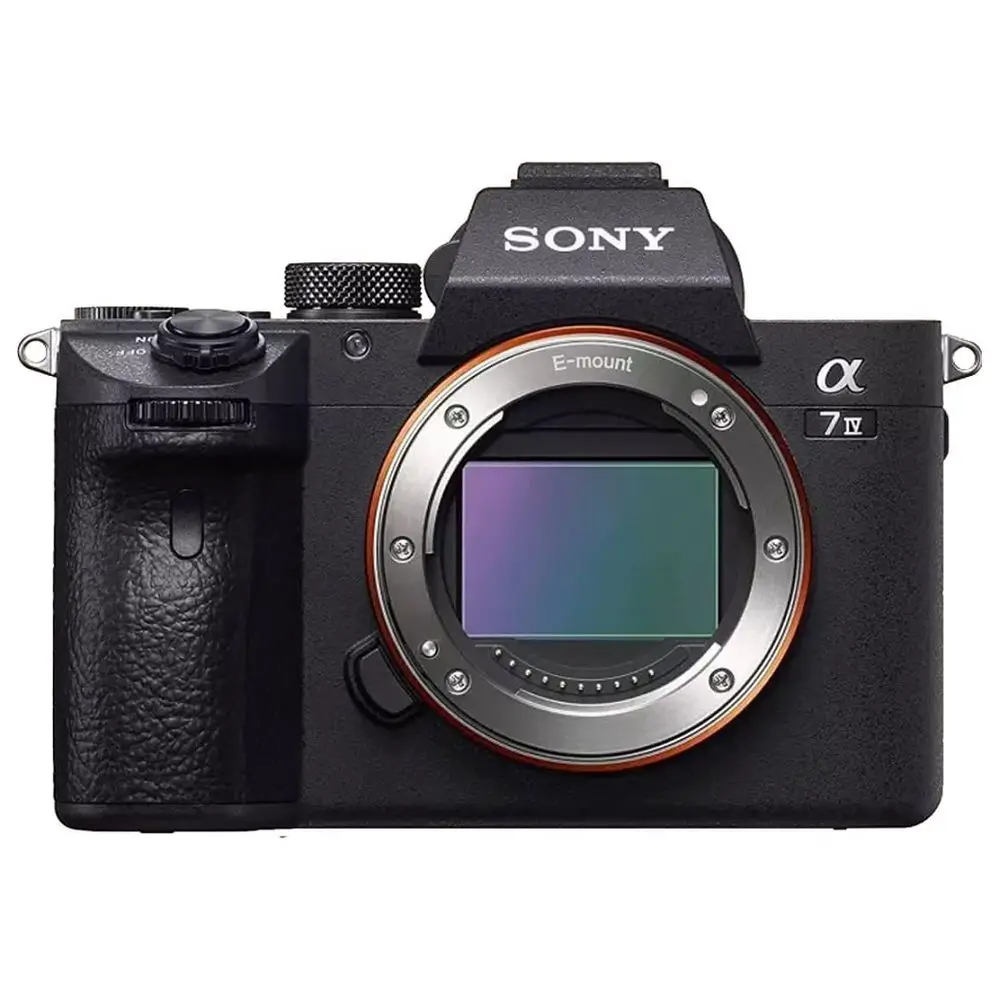 For Vloggers
Sony ZV-E10 Mirrorless Camera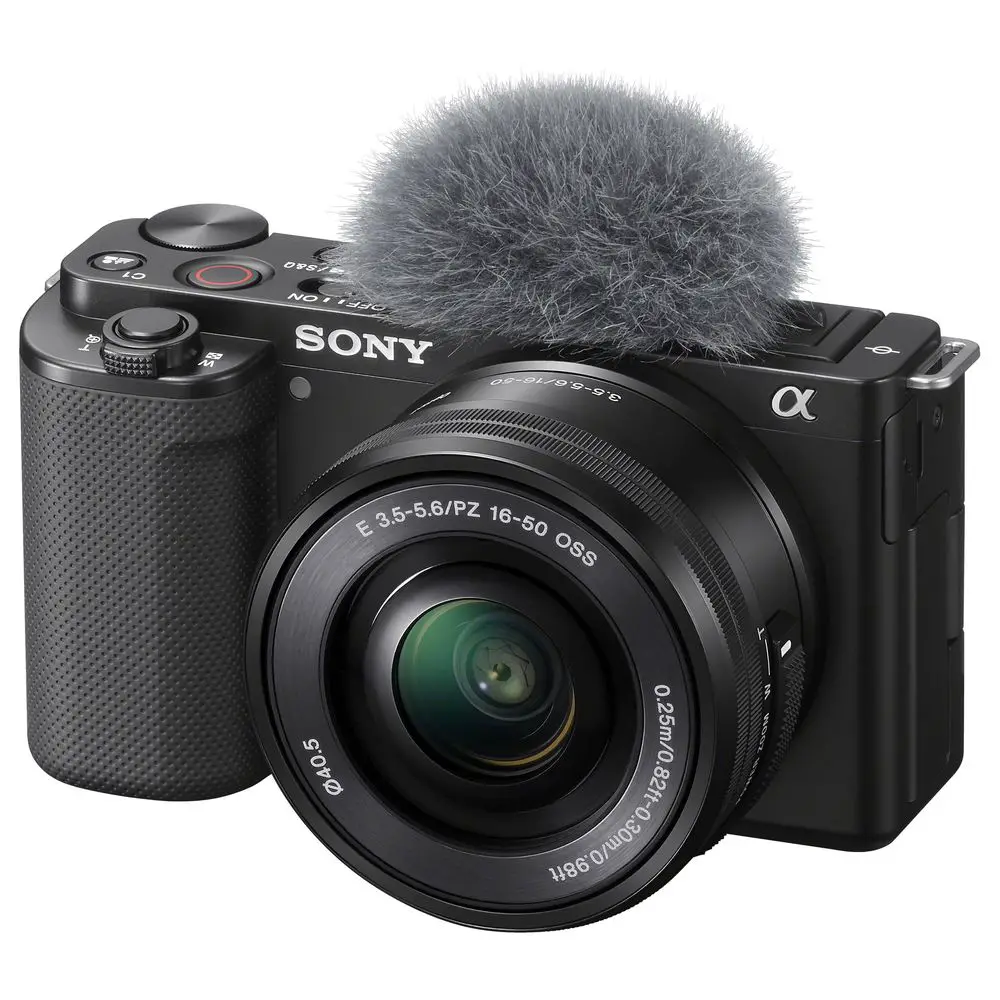 Point & Shoot
Sony RX100 VII Mirrorless Camera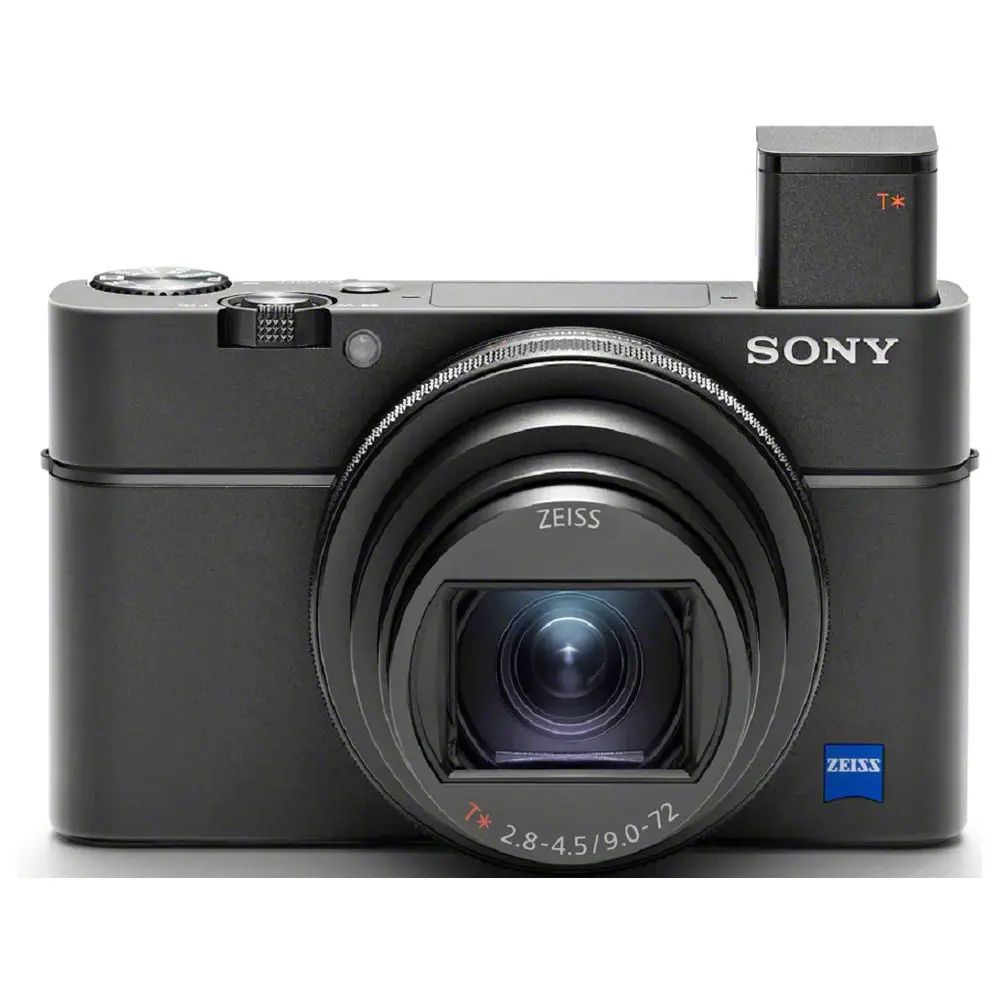 1. Overall Best Sony Mirrorless Camera – Sony A7 IV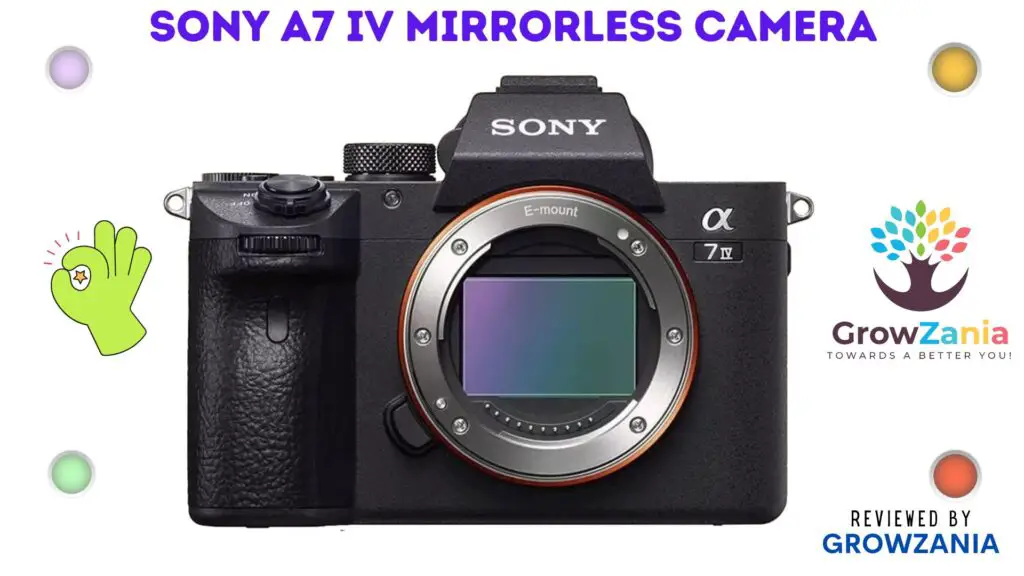 What is the Sony A7 IV Mirrorless Camera?
Sony has incorporated the latest sensor, AI-based autofocus system, and processing engine to work with moviemaking and cutting-edge photography technology, creating a fresh, dynamic photo experience.
The Sony A7 IV is a true hybrid that can do it all. Being an upgrade to the Sony A7 III, it packs a few punches that most professionals will find attractive.
It is a powerful camera that has numerous features making it look like a mini–Sony A1 camera without the price tag of the A1.
The Sony A7 IV is the fourth iteration of the Alpha 7 mirrorless cameras and is the most advanced yet.
It has incredible upgrades like the menu system with touch navigation, sturdier build quality, and more dials and customization options.
It feels well-built, and it is a step up from its predecessor.
Features of the Sony A7 IV
It has a dynamic range suitable for landscape photography. Combine this with the 33MP sensor, and you can make large landscape prints.
The Sony A7 IV has a fast and accurate autofocus system suitable for action and sports photography.
It packs a solid 10fps burst rate, ensuring you never miss any action.
This camera offers unlimited recording times, high bit rates, and numerous frame rate options allowing you to capture anything from slow motion to cinematic footage.
The handgrip is large enough, making it comfortable to shoot with. The grip texture feels pleasant and offers a secure hold on the camera.
It has an upgraded menu system that is well organized with clearly delineated submenus.
Benefits of the Sony A7 IV
It has a fast autofocus system
Weather sealed
Improved menu system
33MP resolution
High burst rate
The camera can be used for different photography genres
Cons of the Sony A7 IV
Cons of the Sony A7 IV
Pricing is on the higher end
It can be confusing trying to figure out the video options
The camera cannot be mounted to helmets
Why do I recommend the Sony A7 IV
The perfect camera for vlogging since it has an articulated screen allowing you to monitor yourself when recording.
The camera is suitable for multiple photography genres making it an all-around camera for professionals and enthusiasts.
With the upgraded menu system, it becomes easy to navigate through the settings and submenus.
The fast and accurate autofocus system ensures you never miss a moment, be it in sports photography or portrait photography.
When hand-holding the camera, the hand grip feels comfortable, and the texture feels fantastic. Also, it is hard to lose hold of the camera.
The latest video and photo features make it a true hybrid camera.
It uses AI-powered autofocus to complement its wide range of features.
2. Best Budget Sony Mirrorless Camera – Sony A7 III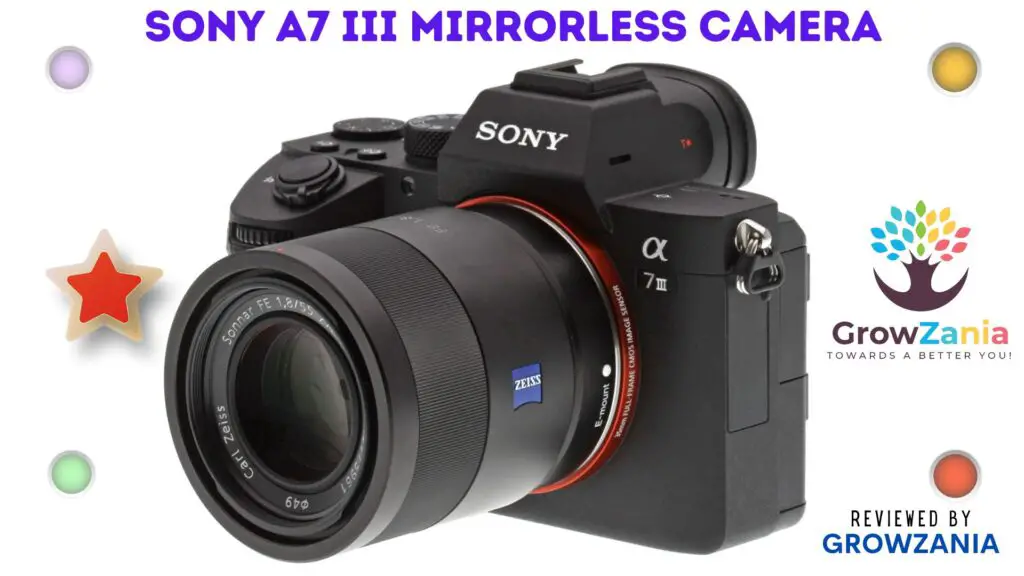 What is the Sony A7 III Mirrorless Camera?
The Sony A7 III is the best-priced all round Alpha camera that will satisfy most users.
It might be an older Alpha full-frame camera, but it is still an excellent camera. The selling point of this camera is its price.
Considering it matches the other high-end Alpha models in terms of specs and performance, it is a great contender for those with limited funds.
Most photographers will not need the resolution of the A7R, the speed of the A9, or the low-light capability of the A7S.
Features of the Sony A7 III Mirrorless Camera
It has an effective 696-point AF system, a 5-axis image stabilization system, and a 24.2 MP back-illuminated image sensor.
The Sony A7 III has a full-frame sensor, which is best for travel, landscape, wildlife, and sports photography.
It offers excellent low-light performance, making it a good contender for concert or night photography.
The camera shoot 10fps burst shooting, ensuring you never miss a shot. It has a 3inch tilting touchscreen with 922k dots.
Benefits of the Sony A7 III
Speed and image quality
Fairly priced
Image stabilization
Cons of the Sony A7 III
Will soon be replaced
It has no 10bit or 60 p video recording feature
Similar 24MP to APS-C models
Why do I recommend the Sony A7 III Mirrorless Camera
Price is the first reason to recommend the Sony A7 III. The features it packs make it a great contender, especially for entry-level users.
The 24MP resolution is more than enough for most users and combined with the low-light capability, it would make for a good camera.
Though it isn't weather-sealed, the Sony A7 III offers incredible image quality using its full-frame sensor.
It has a fast and powerful autofocus system, and its 10fps shooting is incredible at the camera's price.
Additionally, the Sony A7 III shoots 4K video. However, if you want to shoot at 30p, there will be a small crop.
Even with the Sony A7 IV release, the A7 III is still a competitor due to its offering, price point, and all-around camera.
The Sony A7 III is the cheapest and least specified camera in the Sony A7 line-up. However, in practice, its features make it a competent all-rounder camera that makes it on our list of the best Sony mirrorless cameras.
3. Most Affordable Sony Mirrorless Camera – Sony A6000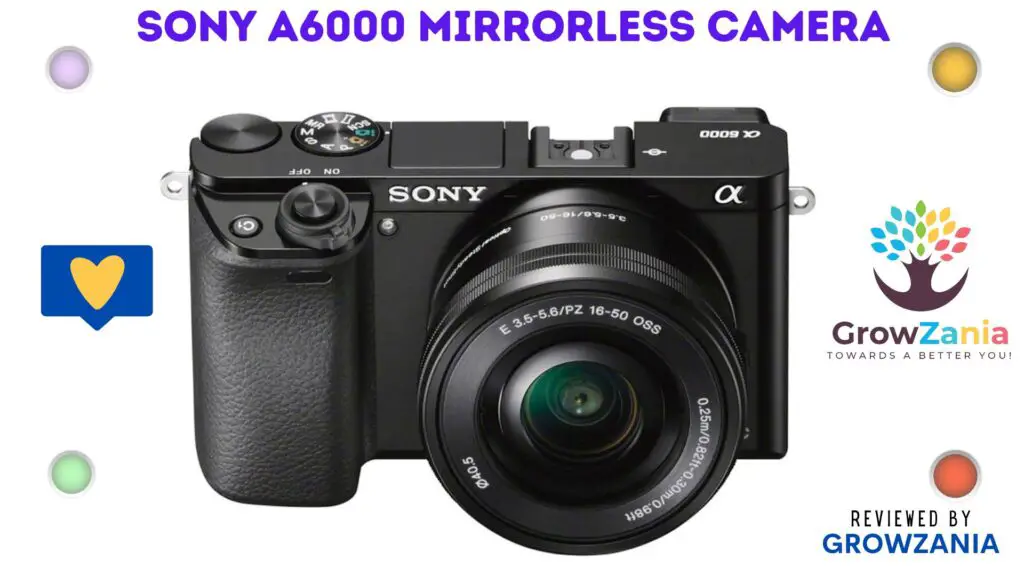 What is the Sony A6000 Mirrorless Camera?
The Sony A6000 Mirrorless camera is one of the best values for a mirrorless camera today.
This is the perfect choice for those on a budget looking to buy a camera that performs well. Moreover, it is an excellent choice for those who already have some experience with photography, as you can shoot in manual mode.
Sony Alpha A6000 is a good choice for street photography shooters who like to capture action and need a very versatile camera.
The Sony Alpha A6000 boasts impressive features you would expect from a higher-end model. However, you also get some additional features not found on similarly priced options.
We have included this camera in our review of the best camera for street photography.
Features of the Sony A6000 Mirrorless Camera
24.3 megapixels APS-C sensor makes it possible to capture clear images of moving subjects in low light settings. You also get an excellent ISO range that ranges from 100 to 25600.
The high ISO range means you can shoot at a higher ISO in low-light settings without blurry images.
The camera also comes with 493 autofocus points. Similarly, allowing you to capture fast-moving subjects without getting blurred images. You will need some good lenses if you are going to shoot street photography with this camera.
The Sony Alpha A6000 features a compact size and lightweight design. It is designed to be held in one hand. This camera can be used by amateurs and professionals thanks to its incredible feature set and list of specs.
Benefits of the Sony A6000
Efficient – The camera uses the BIONZ X image processor, allowing fast and accurate focusing in most situations.
It also has quick autofocus that allows fast and accurate focus in difficult situations.
Able to shoot RAW
Excellent sensor performance –It can capture very sharp images and provides you with very little noise in low light settings.
Cons of the Sony A6000
Lack of character – It is not designed for advanced photographers looking to shoot at higher ISO speeds.
The viewfinder and back screen quality is not as excellent as the other cameras reviewed in this article.
Why Do I Recommend the Sony A6000 Mirrorless Camera?
The Sony A6000 Mirrorless camera is an excellent value-for-money camera that will deliver outstanding images in low-light settings.
The high ISO range of the Sony A6000 makes it possible to shoot at lower ISO settings without any issues. Its large sensor size also ensures that your images are clear and sharp.
The camera also has an excellent HD video recording capability, perfect for capturing great footage of street photography.
This camera also has several features that will make it easy to capture different shots. This includes a fast burst rate, face detection technology, and a touch shutter button.
The Sony Alpha A6000 is also small and light. So, you can easily carry it around when shooting street photography.
4. Best Sony Mirrorless Camera for Vlogging– Sony ZV-E10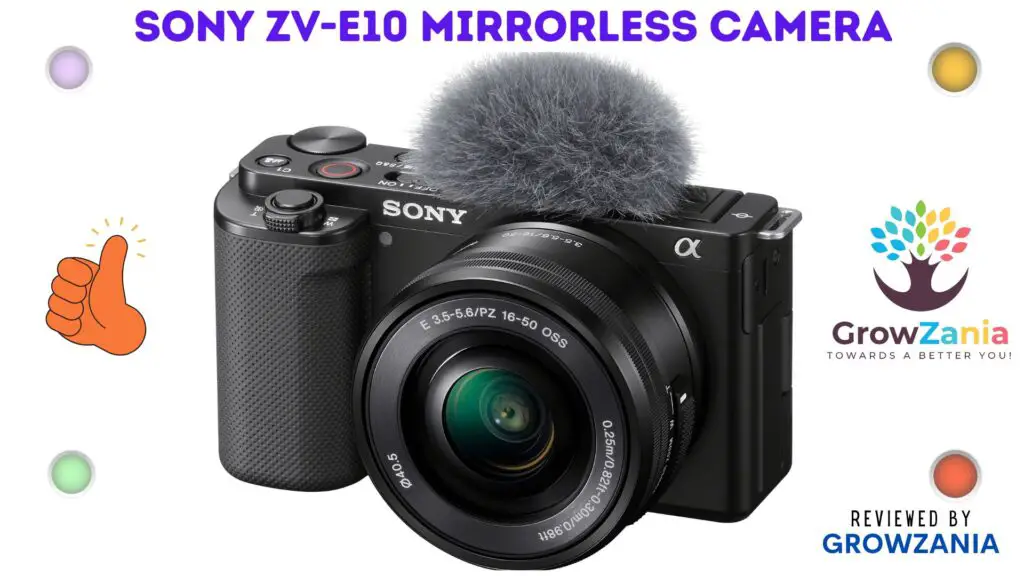 What is the Sony ZV-E10 Mirrorless Camera?
The recent influx of dedicated vlogging cameras necessitated Sony to contribute to the market.
They did this using the Sony ZV-E10, which is an excellent choice that will not break the bank for any vlogger.
Sony picked the best features of the Sony A6x00 line-up and combined them with a body designed with vloggers in mind.
The camera ditched the viewfinder to add a fully articulated screen, making it easy to monitor oneself when recording.
To meet the needs of vloggers, Sony incorporated a large dedicated recording button, a headphone jack, and a fantastic internal microphone.
The camera uses an APS-C body and incorporates a touchscreen.
There is no in-body image stabilization, and the menus are not touch-controlled. However, the camera meets the specific needs of a particular YouTube-era audience.
Features of the Sony ZV-E10 Mirrorless Camera
24MP APS-C sensor with the ability to switch out lenses.
A large well-performing internal microphone with a clip-on-muffler perfect for bloggers.
Excellent autofocus system ensuring you can focus on even the minute of objects. It also has specialized autofocus modes.
Fully articulated screen with decent resolution. While the screen brightness is not the best, you can still see what is on the monitor even in sunny conditions.
The camera has a decent battery life, and it does not overheat when recording video continuously for long periods. You can charge the battery via USB while using the camera.
While it doesn't have the largest, most comfortable handgrip for large hands, the grip texture feels nice and comfortable to shoot with.
The customization options available allow you to set it to suit your shooting preferences.
Benefits of the Sony ZV-E10
Clip-on wind muffler for microphone
No recording time limit
Excellent battery life
Great autofocus features and performance
Fully articulated screen
Highly portable
Cons of the Sony ZV-E10
No in-body stabilization
No viewfinder
Unreliable autofocus
Why Do I Recommend the Sony ZV-E10 Mirrorless Camera?
I recommend the Sony ZV-E10 for vloggers because the camera has dedicated features targeting bloggers.
It can still be used for other photography genres, but the lack of a viewfinder might limit some people.
The fully articulated screen allows you to monitor your recording, ensuring you keep track of your filming and can make background changes quickly.
You can use the camera in a selfie position thanks to its flat design handgrip, suitable for when you do not have a monopod or shooting grip.
The autofocus system is excellent and can track faces well.
It has an appealing price tag making it affordable for most budget bloggers.
5. Best Sony Mirrorless Point and Shoot Camera – Sony RX100 VII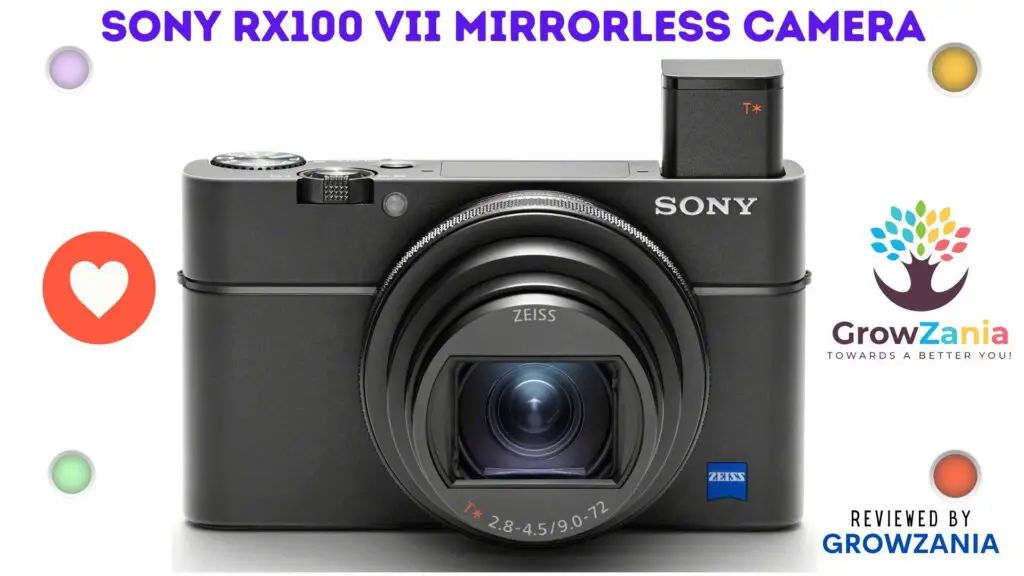 What is the Sony RX100 VII Mirrorless Camera?
Point-and-shoot cameras still outperform smartphones, and Sony has made sure we have something that is small, compact, and versatile.
The Sony RX100 VII is the best all-around compact camera for keen vloggers and still photographers.
It is a popular compact camera and offers excellent image quality.
Like most smartphone cameras, the camera has a beauty feature that smooths subjects' skin.
It seems Sony was offering a camera that would be small enough, like a smartphone that can be carried everywhere.
This is the seventh iteration of the RX 100, indicating its demand in the market.
Features of the Sony RX100 VII Mirrorless Camera
The Sony RX100 VII has a fixed zoom lens making it versatile and easy on the go, especially while traveling.
It features a big, tilting screen and a viewfinder that comes in handy on really sunny days. The viewfinder is a little pop-up that is activated only when needed.
It has 20MP effective pixels and a 1-inch stacked BSI CMOS sensor.
The fixed zoom lens is a 24-200mm f/2.8-4.5.
It has a single burst shooting mode, enabling it to capture seven shots at 3-fps, 60fps, or 90fps.
The camera offers blackout-free continuous shooting, making it easy to track a subject's movement when holding down the shutter.
Benefits of the Sony RX100 VII
The stacked image sensor allows for 20fps burst mode shooting.
Lightweight and portable design
Excellent image quality
The tilting and flipping screen is bright and sharp
Good video performance allows you to shoot 4K video without cropping
Excellent autofocus performance for photography and video
Cons of the Sony RX100 VII
Poor battery life
Not weather resistant
Poor video quality in dim environments
Why Do I Recommend the Sony RX100 VII Mirrorless Camera?
The camera features a built-in Zeiss lens that offers a long maximum focal length, making capturing photos of far-away objects easy.
Sony has implemented the same BIONZ X processor used by the Alpha A9 mirrorless camera.
The Sony RX100 VII uses the newly developed stacked CMOS image sensor giving it an edge over its predecessor.
Its auto-focus system lets the camera focus in 0.02 seconds, ensuring you do not miss any shots.
It has a 90fps single burst shooting and a 20fps black-out free continuous AF like the Alpha A9.
Small, comfortable, and versatile camera that you can take it with you everywhere you go.
---
Growzania is reader-supported.
At Growzania, we aim to provide you with helpful content that helps you work towards a better you.
As such, we include some affiliate or referral links within our posts. When you buy through these links on our site, we may earn an affiliate commission.

These affiliate links come at no additional cost to you.
As an Amazon Associate, we earn from qualifying purchases on Amazon.
---
The details on this article (price, ratings, etc.) are correct as of the date when the post was last updated.
We strive to update our posts regularly. However, a few details may have changed between post update dates.
---