A golf bag is more than just a place to store your clubs for the round. Your golf bag can be the difference between walking around with bruises and sore muscles and carrying a lightweight, durable, dependable accessory that will last for years. In this article, we provide golf bag buying tips that every golfer should know.
A lot of golfers get into the sport because they love the challenge. And one of the aspects that makes this game so entertaining is how diverse it is. It's not like any other game in terms of what you need to play. You don't need a lot of equipment, and you don't have to be an athlete or pay hundreds for a class to learn this game.
For more tips on golf bags, you can read Golf bag tips: 17 tips that every golfer should know in 2021. And for the best golf club brands, these are available here. Lastly, we have also provided a list of 160+ golf quotes to keep you inspired.
Golf is one of the most popular sports around the world for its attractive cost, the vast range of clubs and courses, and its accessibility. However, along with these benefits come a number of concerns that should be addressed, for example, those related to your golf bag.
It is no secret that the price tag for a quality set of golf equipment (including your bag) ranges from $500 to $1,000+, so knowing how to choose the best ones to buy and how to care for them is essential to make them last longer.
Before you buy a new golf bag
1. Why are golf bags so expensive?
A golf bag is probably the most significant investment a committed player will make in their game. There are a number of reasons why golf bag prices are so high.
One of the main complaints about choosing a quality golf bag is that they are pricey. Starting prices for golf bags range anywhere from $100 to more than $400. However, high-end models can go as high as $1,000 and higher.
What do you get when you buy something at the top of this range? The best materials, for one thing. Most expensive bags have an outer shell made from the highest-quality leather or full-grain leather certified by the Leather Industries of America (LIA). This leather is tanned and processed to be more durable, long-lasting, and repel water better.
Most bags are also made from high-quality nylon or polyester. These materials are strong, lightweight, flexible, and don't weigh down the bag as much as heavier materials such as denim or canvas.
Quality golf bags have zippers that will last for years of use without jamming up. They also have fittings that don't break easily.
Safety features are also important to look for. The fittings on your golf bag should have a mechanism that ensures that they can't slide off unexpectedly. They should also feature protective pads or be made from materials that prevent the fittings from rubbing against the club heads.
Another significant benefit of buying top-quality golf bags is the extra storage space they offer. Almost every high-end bag offers a lot more pockets, compartments, and pouches for storage than less expensive models.
2. How much is a nice golf bag?
Most top-quality golf bags will set you back more than $150. However, there are some options at under $`150 that can provide good value for money. If you want a golf bag that will last and offer maximum protection for your clubs, you'll need to set aside at least $200.
If you are looking for an outstanding golf bag that is lightweight, well-insulated and offers plenty of storage space, then below are some options you can consider.
3. What is a staff golf bag?
A staff golf bag is a designated golf bag for the use of a professional golfer. It is thought that the professional carries his own equipment in this bag so that his clubs are ready for him when he steps onto the course.
This type of bag is generally much more expensive than normal golf bags because professionals play on courses where they require clubs with very high-quality shafts and irons.
Examples of staff bags are the:
Callaway Golf 2021 Epic Staff Stand Bag, available from $299
Srixon Golf- Tour Staff Bag available from $449.
4. What type of golf bag should I get?
There are a few things to consider when choosing the best golf bag for you. One of the main factors is how much you plan to use it and how frequently.
You'll also need to think about what kinds of clubs you're likely to be carrying (for example, will you have your drivers with you on every hole?) and any special features that are needed for your game (for example, do you need a cart or stand bag?).
5. What is a golf cart bag?
If you use a golf cart to drive from hole to hole, you probably have a cart bag. These bags are made from the strongest materials and can include extra features that other types of bags don't. If you plan to carry your clubs in your car and then transfer them to a cart, you'll want to look for a bag with ample storage space for heat-sensitive items such as batteries, grips, and sunscreen.
Especially for senior golfers, you may want to consider getting a cart bag.
For example:
Founders Club Premium Cart Bag, available from $199, or
TaylorMade Cart 8.0 Bag, available from the same price ($199)
Premium cart bag options include the:
MOTOCADDY 2021 Dry Series CART Bag, available from $319, and
Callaway Golf 2021 ORG 14 Cart Bag available from $249
6. How long do golf bags last?
Both full-grain and top grain leather are the most durable materials used to make golf bags. They are also more expensive and heavier, so they will last a long time. However, they will not necessarily give you the best value for money.
The other type of leather commonly used in golf bags is polyester or nylon. These materials are less expensive and more lightweight, but they don't last as long as leather.
You can expect a mid-range quality golf bag to last you for up to five years of regular use. The most expensive bags can last you for up to twenty years with proper care and maintenance.
Things like the quality of the stitching, zipper, and fittings will determine how long your bag will last. You'll also want to take good care of it by properly storing it when not in use and keeping it well-polished.
7. Do I need a waterproof golf bag?
Most golf bags do not come with built-in waterproofing. However, if you will be using your bag in wet weather, such as after rainfall or from wet tee boxes, you may want to consider getting one.
A waterproof bag can help prevent damage to your clubs when they get wet due to moisture exposure. For example, some equipment, like shafts or drivers, may break if submerged in water for a long time. Water also exposes your clubs to rust. We have previously discussed how to clean rusty golf clubs.
For this reason, you may want to consider getting a waterproof bag. When choosing a waterproof bag, pay attention to the number of compartments and pouches you want to have. You may also want to pay attention to the material the bag is made from (for example, polyester or nylon).
If you need a bag with waterproofing, there are several options available. You can find these bags in both leather and polyester, or nylon.
Some waterproof golf bag options are the:
Founders Club Waterproof Golf Cart Bag, available from $180, and
Titleist – Players 4 StaDry Golf Bag available from $219.
8. What is a rain hood for a golf bag?
A rain hood for a golf bag is an optional extra that you can buy to protect your clubs while they're in your golf bag. These are designed to stay over the head of your golf bag so that when it rains, they will keep the clubs dry.
If you choose not to get a rain hood, pack towels or washcloths with your bags. These will help prevent moisture and water damage by absorbing water before it reaches your clubs.
Golf bag rain hoods are a second option if you do not want to buy a waterproof golf bag. They will prevent rain and moisture from penetrating the outer lining of your golf bag.
These golf rain hoods or waterproof covers are often lightweight, compact, and purchased in many different sizes for all types of bags.
Some good examples are the:
Crestgolf Waterproof Rain Cover Rain Coat for Golf Bag + Anti-dust, available from $27
Rain Tek Waterproof Golf Bag Rain Protection Cover with Hood for Golf Push Carts, available from $36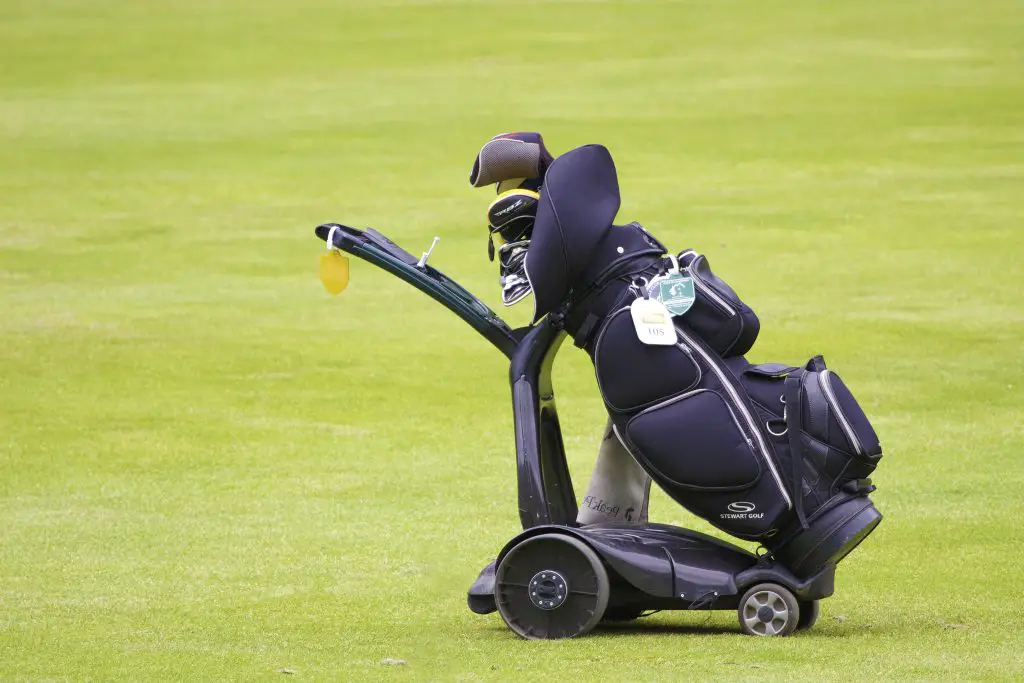 9. Are white golf bags any good?
White golf bags come in general with higher price tags. However, they do have many benefits.
For example, white bags are more durable than other colors. They are also more resistant to damage from scratches and scuff marks, which makes them last longer.
The downside to white golf bags is that they can show dirt and stains more easily. You may need to deal with this more frequently than if you had a dark-color bag.
10. What is the lightest golf stand bag?
Golf bag stand bags are designed to either sit on the ground or be hung from a golf stand. They are smaller and lighter than cart bags since you'll only be carrying your clubs, not a golf cart.
The lightest golf stand bag we found is the 1.95-pound CHAMPKEY Lightweight Golf Stand Bag, available from $69.
This CHAMPKEY bag has the same weight (1.95 pounds) as the Sunday Golf – Lightweight Sunday Golf Bag with Strap and Stand, available from $74.
If you are looking for other possible bags for use as a stand bag with a golf stand, choose one with no pockets and just has pouches for your clubs.
For example:
This 3.2 pounds Izzo Ultra Lite Stand Bag, available from $154
This 3 pound TaylorMade 2019 LiteTech 3.0 Stand Golf Bag, available from $207.
11. Do I need a travel bag for golf clubs?
If you like to travel with your golf clubs, then you will need a travel bag. Travel bags keep your clubs safe, protected and organized when moving around the country or world.
Travel bags also help speed up your traveling time since they make it easier to check-in at the airport and pack in your car. They are also a good choice if you need to ship your golf bag via FedEx or DHL, or other airlines for business trips or vacations.
If you are looking for travel bags, the ones we recommend are the:
Titleist Players Travel Cover Black/Red, available from $194
Think sea Hard-Bottom Golf Club Travel Bag Case with Wheels, available from $49.
RAM golf also has an excellent travel bag available, which is the RAM Golf Padded Golf Travel Cover, available from $33.
Alternatively, you can check out the Himal Soft-Sided Golf Travel Bag, available from $46.
Final thoughts on golf bag buying tips
Can't decide which golf bag is right for you? I suggest you find a bag that is lightweight and easy to carry. The weight of the bag will determine how much it will impact your game.
I also suggest that if you are looking to get a cart bag, consider getting one that is waterproof. This will help protect your clubs in wet weather, since they will not be exposed to water or moisture.
Alternatively, you can purchase a good stand bag and a rain cover, which can also keep your clubs safe from water damage.
We hope you enjoyed reading this article, and have all the answers to all your bag buying questions!
Now that you know everything there is to know about golf bags, I hope you will enjoy playing great golf and winning more tournaments.
Thank you so much for reading this article on golf bag buying tips. I really hope it gave insights into what one needs to consider in order to purchase the best golf bag.
---
Growzania is reader-supported.
At Growzania, we aim to provide you with helpful content that helps you work towards a better you.
As such, we include some affiliate or referral links within our posts. When you buy through these links on our site, we may earn an affiliate commission.

These affiliate links come at no additional cost to you.
As an Amazon Associate, we earn from qualifying purchases on Amazon.
---
The details on this article (price, ratings, etc.) are correct as of the date when the post was last updated.
We strive to update our posts regularly. However, a few details may have changed between post update dates.
---